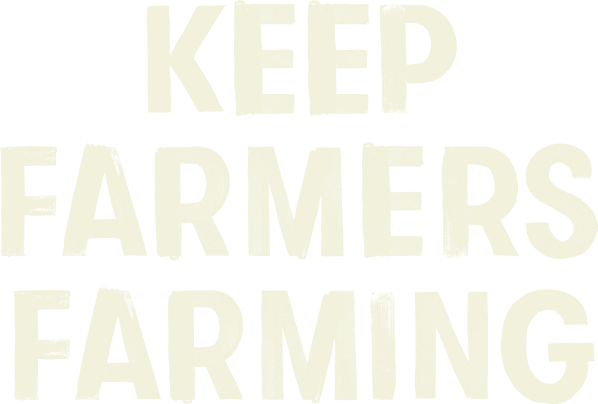 The All For Farmers Coalition is here to help.
The food you love comes from farmers who need your help
As a farmer-owned co-op, we understand the increasing challenges farmers are facing due to COVID-19 and climate change. But, we can all help. That's why we created All For Farmers, a coalition of brands and food lovers to support farmers across the nation in need. Join us by taking action to support.
Learn More
For over 110 years, we've been a farmer-led company that takes care of each other no matter what. That's why we partnered with American Farmland Trust to create the All For Farmers Coalition to raise funds for the Brighter Future Fund. A grant program that ensures every dollar raised goes directly to a farmer in need.
Our Partners
We're stronger together, so we teamed up with our partners to help secure a future for farmers and the foods we need and love. It's not too late for your brand to join the coalition—and together, we'll do right by the future of farming. Click here to join.
Doing right by farmers since 1909
We do right by farmers, always have, always will. Last year, YOU helped us raise $1.6M for the Brighter Future Fund. Those funds and all those raised through the All For Farmers Coalition will have an immediate positive impact on farmers. Explore a few of those farmers' stories and why the need for support continues.
Meet The Farms
Explore the map to meet some of our grant recipients.
See where and how your donations impacted the future of farming.
There's a farmer behind every delicious bite
Dig in! See how we're helping farmers with American Farmland Trust and the Brighter Future Fund grant program to keep food on your table.
Shop To Support
Tiny acts, like shopping from the All For Farmers Market on Food52, make a big difference for farmers in need. That apron will help a farmer. That cutting board, too. Anytime you buy an item from the All For Farmers Market, you help keep farmers farming.
Donate Directly
A small act from you could mean significant change to a farmer. That's why the All For Farmers Coalition makes it easy to support farmers through everyday actions like simply donating to American Farmland Trust where 100% of donations directly benefit farmers.
See how far your donation will go
Donate to American Farmland Trust, a not-for-profit that protects farmland, promotes sound farming practices and keeps farmers on the land.
Hold and drag to explore more.
$

1
Could buy a
lamb's bottle
topper
Turn the dial to see how an increase in your donation could make an impact.
Join the
Mailing List
Subscribe to get personalized updates, offers, early access to new products and more.